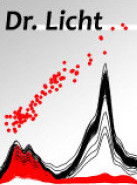 Dr. Licht GmbH develops and produces analytical equipment making use of properly designed measuring tools and techiques as well as employing chemo-metric evaluation.
Chemo-metric evaluation techniques in particular permit determining analysis items which presently are accessible only with extreme efforts or not at all; beyond that measuring techniques can be directed towards selected spectral ranges. The user may expect to receive a precisely working, robust and easy-to-handle measuring device or for a specified industrial process.
The software has been designed for self-explanation. All functions and measured values can be transferred and integrated into other programs.
We are looking forward to receive your masuring assignments!